5 сайтов с онлайн-диктантами по английскому языку
Вы хотите научиться понимать английский язык на слух и одновременно с этим подтянуть правописание? Сегодня наша подборка полезных ссылок содержит 5 ресурсов по изучению английского языка, это сайты — сборники диктантов по английскому. Упражнения помогут вам проверить, насколько хорошо вы воспринимаете речь на слух, и как у вас обстоит дело с правописанием на английском языке. Попробуем?
1. Dictationsonline.com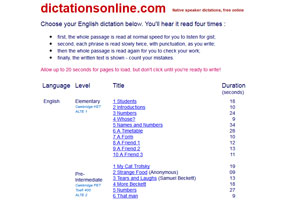 Данный сайт — сборник коротких диктантов на английском языке. Задания делятся по уровням сложности от Elementary до Advanced, тексты читают носители языка. Здесь есть и простые диктанты, и отрывки из художественных произведений.
Выберите интересующий вас диктант, рабочее окно откроется в новой вкладке. Вам дадут некоторые слова — имена собственные, написание которых вам знать необязательно. Далее вы включаете запись, слушаете и пишете. В первый раз каждое предложение читают медленно, повторяют два раза, при этом диктуют знаки препинания. После этого вы еще раз включаете запись для проверки: текст читают один раз в нормальном темпе, знаки препинания не называют. Затем вы открываете текст и проверяете свои ошибки.
Ресурс простой и понятный даже для новичков, а максимальная продолжительность записи составляет всего 35 секунд. Поэтому вы можете заниматься ежедневно — 5 минут в день для занятий английским языком сможет найти каждый.
2. Rong-chang.com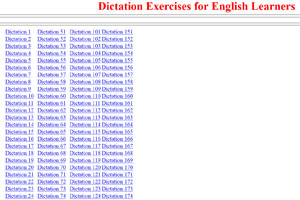 Уровни сложности не указаны, поэтому мы рекомендуем начинать заниматься на сайте с уровня Pre-Intermediate и идти от первого упражнения к последнему.
Диктант представляет собой набор из 10 предложений. Вам читают первое из них в среднем темпе, вы пишете его в специальное окошко и нажимаете кнопку Check (проверить). Неправильно написанные слова подсвечиваются желтым цветом. Если вы не можете расслышать какое-то слово, нажмите на кнопку Hint (подсказка), вам подскажут первую букву (при необходимости вторую и последующие). Если вы не можете понять предложение, пропустите его, нажав на кнопку Show answer (показать ответ).
У этого ресурса есть небольшой недостаток по сравнению с предыдущим сайтом: вам не предоставляют список имен собственных, а в них легко ошибиться. Однако в целом сайт удобный и полезный, а ваша тренировка займет всего 5-10 минут в день.
3. Englishclub.com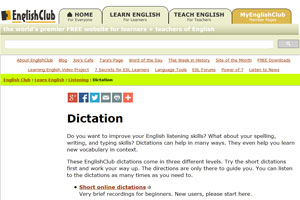 На сайте есть удобное деление по трем уровням сложности: для начинающих — короткие предложения, средний уровень — тексты средней длины, продвинутый уровень — длинные тексты.
В каждом уровне тексты разбиты по тематике, выбирайте ту, которую хотите изучить или потренировать. Кликните на выбранную тему, вы увидите список страниц с упражнениями. В каждом из них есть кнопки, обозначенные буквами от A до F. Нажмите на A — вы услышите предложение, произнесут его в среднем темпе. Затем нажмите на B, вам продиктуют эту фразу в медленном темпе, в это время пишите ее в окошко под буквой С. Обратите внимание: знаки препинания вам продиктуют. После написания нажмите на D — вам снова прочтут предложение в нормальном темпе, вы можете проверить, правильно ли записали его. Для проверки нажмите на букву E — вам покажут верный ответ в окошке под буквой F.
Ресурс удобный, понятный и эффективный. Вы не только проверите свои знания, но и сможете выучить новые полезные фразы, повторить грамматику.
4. Breakingnewsenglish.com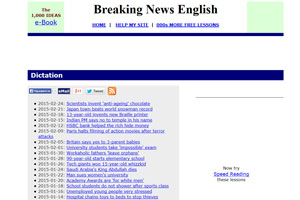 Один из самых интересных ресурсов для написания диктантов по английскому языку, ведь вам будут зачитывать не отвлеченные предложения, а «живые» фразы из самых последних мировых новостей. Аудиозаписи неадаптированы, поэтому с ними стоит заниматься с уровня Intermediate.
На каждой вкладке вам предложат написать всего по одному предложению. Включайте запись и пишите под диктовку. Вся сложность заключается в том, что фраза взята из записи настоящих новостей, у носителя может быть не классическое британское произношение, а своеобразный акцент, к тому же, говорит он довольно быстро. Вы можете написать все предложение сразу, а можете вводить по одному слову в специальное окошко и проверять каждую часть предложения.
Новые упражнения появляются раз в два дня, советуем заходить сюда и проверять понимание «живой» устной речи нормального темпа без адаптации.
5. Learnenglish.de
На этом ресурсе не так много диктантов, однако все они отлично подойдут для тренировки. Это довольно длинные тексты по сравнению с размещенными на предыдущих сайтах.
Для начала прослушайте текст, записанный в нормальном темпе. Затем включите запись в медленном темпе и пишите под диктовку. После этого вновь включите запись в нормальном темпе и проверьте свой текст. Нажмите на кнопку Check и сверьте свой диктант с исходным текстом.
На этом ресурсе занятия займут больше времени, поэтому можете чередовать написание длинных и коротких диктантов на других сайтах хотя бы раз в неделю.
Итак, теперь у вас есть 5 замечательных сайтов для написания интерактивных диктантов по английскому языку, которые, мы надеемся, станут вашими постоянными помощниками в процессе обучения. Потратьте всего 5 минут в день на совершенствование своего английского, уже через месяц вы начнете писать более грамотно, узнаете десятки новых фраз, а понимать язык на слух и вести разговор по телефону на английском языке станет легче.
Скучно заниматься самостоятельно? Предлагаем записаться на уроки английского языка по Skype с одним из наших преподавателей. Учитель научит вас не только хорошо писать и понимать английский на слух, но и разговаривать на нем бегло и грамотно.
Источник
Диктанты
к учебнику IV класса под редакцией Верещагиной И.Н.
Unit "School Life"
Lessons 9–16
Peter Brown is a little boy who is ten. He lives in a small town in England and goes to Cedar Grove School. This school is not very big. Pupils from 5 to 11 years go to the school. They have ten comfortable classrooms and there is a big beautiful hall at school.
The school is far from Peter Brown's house and so Peter goes to school by schoolbus. He has classes on Monday, Tuesday, Wednesday, Thursday and Friday. The pupils at Cedar Grove School have many subjects on their timetable. They are English, Maths, Handicraft, P.E., History, Music, Art and Reading.
The pupils learn how to read, count, write, draw and how to get on with other children at school. But children spend a lot of time outdoors. They visit different museums and other famous and important places. Before and after classes pupils often play different games. Peter likes his school very much.
Unit "The Place We Live In"
Lessons 17–23
Hi, my name is Adam Johns. I am 50 and I live in London in my own house. My address is 37 Forest Road. My house is small, but comfortable. There is a sitting-room, two bedrooms, a kitchen, a bathroom and a toilet in it.
The bedrooms, a bathroom and a toilet are upstairs. The sitting-room, a kitchen and a hall are downstairs. My sitting-room is lovely and rather large. There is much furniture in this room. There is a cupboard, a bookcase and a piano against the wall. There is a sofa, and two armchairs in front of the fire. In the middle of the room there is a wonderful carpet. It makes the room look beautiful. The curtains on the windows are yellow and they make the room bright and nice indeed. There is a TV-set in the corner of the room. There is a mirror and two lovely pictures on the wall.
My house is in a quiet street not far from the centre of the town and so I like it very much.
Unit "Town Life"
Lessons 24–30
Yesterday I got a letter from my pen-friend. He lives in a small town in England and often writes me about his town-life.
I have never been to his town but I know a lot about it.
His town is very old, but beautiful with quiet streets and a nice square in the centre. The streets are not very wide, there are a lot of flowers and trees in them. There is an old tower in the town, it is very old and nobody knows the name of the architect. There is a large bell in the tower and the people of the town hear it ring every Sunday. The tower has become a museum. There is a nice church not far from the tower. The life in my friend's town is not very exciting, but the people of the town like it.
Unit "Travelling"
Lessons 31–36
Mr. Brown lives in a noisy city in Scotland. He is a businessman and works hard. He gets up early at 6 o'clock in the morning and gets to work by car. He bought a new car last year. It is very fast, but it takes Mr. Brown half an hour to get to his office because there is a lot of traffic now in the cities.
Mr. Brown has to travel much. He likes to travel by plane, by train and by ship. He arrives at the airport, buys a ticket for business class and his journey begins. His flights are always comfortable. He has never missed his planes, and nobody has stolen his luggage yet. He has always been lucky. When he arrives, he catches a taxi and goes to the hotel where he wants to stay. When Mr. Brown travels he likes to take pictures. He has taken a lot of pictures.
Unit "Hobbies"
Lessons 37–42
Andrew Brown is known as a true collector. He is not fond of collecting stamps or badges. He is not a theatre-goer or a cinema-goer. He doesn't go in for sports and doesn't play any musical instrument. What he likes is to collect coins. He has a large collection of coins at home and is very proud of it. Some of his coins are unique, by the way. His coins can tell us about different people and different countries. Andrew Brown often says that his hobby is popular with people of all ages. He thinks his life became more interesting when he started to collect coins. When he travels he always brings home coins from different countries. His wife Emily has a hobby too. She is a cinema-goer. She visits the "Odeon" twice a month. The "Odeon" is one of the famous cinemas in London. They show different films, cartoons and love stories, too. Emily always feels comfortable at the cinema and enjoys the film very much.
Unit "The USA"
Lessons 43–52
David Watson lives on a small island which is situated in the North Sea. He lives in a wooden house and enjoys his peaceful life on the island. But when David was young he travelled a lot.
He was a sailor and he was very much interested in discovering new lands and countries. Sometimes his life was full of danger and he even had to protect his life with a gun. His life often depended on God and luck. His ship sailed from one place to another and news about David's discoveries appeared in newspapers and magazines from time to time. David hunted in America and Africa, fought with snakes and crocodiles in Australia, he even reached Japan. When he travelled he often wrote letters to his family and told his wife and children about countries he visited, about the history, traditions and symbols of these countries.
When David grew old his friends advised him to by a country house on the island and he moved in his new house soon. Now he leads a quiet life in a small settlement but he is not sorry.
A traveller called Donald Blake was travelling around the country. His journey was interesting though hard and full of danger. He met wild animals in woods and had to protect himself with a gun. He often had nothing to eat and had to hunt animals for food. He wore jeans, boots and a hat. His jeans were strong and practical, the boots protected his feet and his hat helped to protect his face from the hot sun.
He visited cities and towns, islands and woods. He discovered that the world around him was beautiful. Donald Blake was going around his native land and so people helped him much. Once he stopped at a tailor's cottage which was situated in a small settlement and the host and the hostess invited Blake in and gave him food to eat. They were so kind that Blake decided to give them a gold coin. The host and the hostess were surprised and could hardly believe their eyes. "What could this man wearing old dirty clothes give them?" they thought.
By Albina Sidorova,
Belebey, Bashkortostan
Источник
Сборник диктантов по английскому языку 6-7 класс
Особенности работы со слабоуспевающими и одаренными детьми в школе
свидетельство каждому участнику
скидка на курсы для всех участников онлайн-конференции
13 – 15 октября 2020г 19:00 (МСК)
Look at the picture. This is Aiman. Aiman is a Kazakh girl.She is a schoolgirl. She is a good pupil. Aiman is young, she is eleven. She is not tall. Her hair is dark and long. Aiman has big brown eyes. Aiman has a brown skirt and a white blouse on. She has no hat on. She has brown shoes on her feet. Aiman is a nice girl.
In this picture you can see a schoolboy. His name is Misha Zatubin. Misha is twelve. He is in the fifth form.
Misha is tall. His hair is fair and short. Misha has blue eyes.Misha has dark trousers on. His socks are grey and his boots are black. His shirt is white. He has a red scarf on. He has no coat and cap on. He has an English textbook in his hand.
My little sister
My name is Darkhan. I have a sister. Her name is Aigul.
Aigul is a little girl. She is six. She is not as schoolgirl, she is young. Aigul has a round face. Her hair is fair. Her eyes are grey. She has a short nose and thick red lips. She has small hands and feet. She has a short yellow dress on. She has shoes and white socks on her feet.
This is me. My name is Nurbek. I am six. I'm not a pupil. I can draw, but I can't read or write.
This is my sister. My sister'sname is Rita. She is nine. She is a schoolgirl. She can read and write. But she isn't a very good pupil.
I have a brother. My brother's name is Daulet. He is twenty and he is a student. Daulet is a good brother.
This is a picture of my father. I am his son. Rita is his daughter. My father's name is Nurlan. He is a worker. My father is forty-six.
This is my mother. My mother is an engineer. She is forty-five. My mother and my father are my parents. My brother, my sister and I are their children.
In this picture you can see my father's sister. Her name is Raushan, she is my aunt. Aunt Raushan and Uncle Dauren are not here. They are in Astana.
These my grandfather and grandmother. They are my mother's parents. They are pensioners. My grandfather and grandmother are very nice.
This is our family. It is not very large. I have a father, a mother, a brother, a sister, a grandmother, and a grandfather.
We have a nice house. This is a picture of our house. You can see it is not very big . There are four rooms in our house: the living-room, the dining-room and two bedrooms, and a kitchen. The door of the house is shut. You can see three large windows of the living-room. The windows are open. You cannot see the kitchen windows. The kitchen is behind the living-room. In front of the house we have a small garden with flowers in it. There is a garden behind the house too. You can see flowers and trees in the garden.
I get up at seven o'clock. I open the window and make my bed. I do my morning exercises in front of the open window . Then I wash my hands and face. I go back to my bedroom and put on my shirt. I take my red scarf out of the wardrobe. The wardrobe is in the corner of the bedroom.Then I go to the kitchen and have my breakfast. I usually have bread and butter and a glass of milk. I like milk very much.
After breakfast I put my books and exercise-books into my school-bag. Then I say good-bye to my mother and go to school. In the street I see my friends, they go to school too.
At school we have English lessons on Tuesdays, Wednesdays,Fridays, and Saturdays. We speak English at these lessons. We read short texts and write exercises in our exercise-books. We have lessons up to two o'clock.When lessons are over, I come back home. At home I have my dinner, wash the plates in the kitchen, and then go out into the garden and play. At half past four I sit down at my desk and do my homework. In the evening I play with my friends in the yard or read Russian books. On Sundays I do not go to school. I go to the park or play.
It is half past seven. Zina, her mother and her sisters are in their living –room. Zina's mother is a very nice woman. She is thirty-six. She is not very tall. She has fair hair and grey eyes, her face is round. Zina's father is a worker. He is not at home. He is at the factory. Zina, her mother and her sisters are having their breakfast. They are sitting at the table. There are plates, forks and spoons on the table. Zina is putting butter on a piece of bread. Her little sister has a cup of tea in her hand.
Dima is a village boy. He lives in a village near Smolensk. His village is not very large. The streets of the village are green.
Dima's family has a house. There are three rooms and a kitchen in the house. They have a kitchen – garden.
Dima is a schoolboy. He is in the fifth form. He is eleven.
Dima's parents are farmers. Dima's parents work on a farm. They have a cow, a pig and two sheep. Dima helps his mother and his father. He likes his village very much.
We live in Zhezkazgan. Our city is not very large,but it is nice.There are buses and cars in the streets. We live at 36, Gagaryn Street. Our street is long and there are many trees in it.In spring and in summer the trees are green.
There is a garden in front of our house. In the garden there are trees, and red,blue and yellow flowers. I like the garden. In the evening I go to the garden, sit on a bench and read a book.In the afternoon after lessons I play with my friends in our yard. Our yard is very large. My friends live in Gagaryn Street too, but they do not live in our house. Our house is number 36, my friends live at Number 10
Dima lives in a village near Voronezh. His village is large, there are many streets in the village. In the streets you can see cars and buses.
There is a collective farm in the village. The collective farm has many cows, pigs, and sheep. The farmers go to work in the fields or on the farms by car or by bus.
The farmers live in new houses. Near the houses you can see gardens. There are many flowers in the gardens. They are red, whitre
Everything is good in it's season
There are four seasons in the year. Each of them brings different weather and different dresses. When it is hot people wear T-shirts and shorts, light blouses and skirts, sport shoes , and sandals. In summer people dress like this in Africa, Russia, Canada, Ireland, Great Britain and America. In cold weather people usually put on warm clothes: jeans and trousers, sweaters and jackets, overcoats and caps. In winter they wear fur coats and fur caps, high boots and mittens or gloves. The proverb says:n« There is no bad weather, there are bad clothes«. Another proverb says: « Everything is good in its season«
The school where I studied is situated not far from my house. It's a modem four-storeyed building of a typical design. In front of the school there is a big sportsground, behind it there is a small garden with beautiful flower beds. Here on the sportsground pupils have their classes in physical training when the weather is fine.When you enter the school you'll see a large gymnasium, work-shops and a canteen on the left. On the right there is a Headmaster's office. The cloak-room is downstairs. The classrooms, the laboratories.the doctor's office, the library, the Teacher's room are on the upper floors. There is a large hall on the first floor and schoolchildren hold their meetings here.We are proud of our physics, chemistry, botany and English labs. They are equipped with tape recorders, TV sets and other necessary apparatus.During the years of study we acquire deep knowledge in various subjects, such as physics, mathematics, chemistry, biology, Russian and foreign languages and literature, history, geography etc. I was especially good at languages. Our teacher gave us basic knowledge of these sciences, they taught us to treat nature carefully, to love our Motherland, to be honest and hardworking.
I like my school very much.
Education is very important in our life. An educated person is one who knows a lot about many things. He always tries to learn, find out, discover more about the world around him. He get knowledge at school, from books, magazines, from TV educational programs. The pupils can get deeper knowledge in different optional courses in different subjects and school offers these opportunities. They can deepen and improve their knowledge by attending different optional courses in different subjects. The result of the educative process is the capacity for Further education. Nowadays the students of secondary schools have opportunities to continue their education by entering, gymnasiums, lyceums, colleges. But the road to learning is not easy. There is noroyal road to learning. To be successful in studies one must work heard. It's for you to decide to learn and make progress or not to learn lose your time. The role of foreign languages is also increasing today. Thanks to the knowledge of foreign languages one can read books, magazines in the original, talk to foreigners, translate various technical articles. Moreover, joint ventures which have recently appeared in our country need specialists with profound knowledge of foreign languages like English, German or French. To know foreign languages is absolute necessary for every educated person, for good specialists.
Источник